The Paradox of Perfection: What Perfection Is (Pt.2)
So now we have established what God does NOT expect from us, when it comes to the scripture in Matthew 5, but if God doesn't expect flawlessness or completion or some other saying that is used to substitute "perfect," then what DOES he command of us?
Lemme put up that verse again, with a little context with it this time.
43 "You have heard that it was said, 'Love your neighbor and hate your enemy.' 44 But I tell you, love your enemies and pray for those who persecute you, 45 that you may be children of your Father in heaven. He causes his sun to rise on the evil and the good, and sends rain on the righteous and the unrighteous. 46 If you love those who love you, what reward will you get? Are not even the tax collectors doing that? 47 And if you greet only your own people, what are you doing more than others? Do not even pagans do that? 48 Be perfect, therefore, as your heavenly Father is perfect.

Matthew 5:43-48
The kind of perfection that Christ expected and expects his disciples to fulfill has already been described in previous verses. "Therefore" in verse 48 refers us back to 43-47. Do you see it? The perfection that is discussed is THE PERFECTION OF GOD'S LOVE. So the command seen here is not one of flawless expectation, too impossible to acquire, it is a command to love. Just as our Father's love is perfect, so should we imitate that. But here's the catch – this is not possible without Christ. We are to love completely and evenly, and in the flesh alone, this is not a feasible task. When we are filled with the love of God, only then can we love perfectly. Loving our enemies, praying for those who persecute us, loving the unlovable – these are ways in which Christ loves unconditionally and invites us to do the same. This is the rain that falls on the righteous and unrighteous, and how love can be made perfect in us through Christ.
Remember the two worlds I discussed in the previous post? The Realm of Ideal Forms and the Physical World, flawed and incapable of accommodating perfection? Well, enter Jesus. He literally bridged the gap between these two realms of philosophy. A perfect being, sinless and without blame (an IDEAL MAN, from a metaphysical realm), closed the gap by stooping down to an imperfect world, a place of impossible perfection. As Jesus walked this Earth and completed his love by giving up his life for sinners, we not only were offered the chance to be redeemed, but also an additional gift. Perfect love was made possible. The godly love, unchanging and atemporal and unembodied and flawless, was unlocked and given to a world that could never grasp such a lofty offering. Humans, loving with conditional and defective hearts, now had access to a way much greater than their finite and ever-changing feelings. A metaphysical, idealistic, pure love was now reachable.
Christ had access to unimaginable, divine power, yet he CHOSE to enter the Earth in the most dependent, vulnerable, weak form. As a baby, fully dependent on his flawed parents' choices, his imperfect disciples' support, and a distorted world's temptations and disappointments, he became weak. He chose to embrace weakness and emulate it in his walk of life. A God, capable of great power chose to instead withhold it and walk in frailty. Why?
16 For verily he took not on him the nature of angels; but he took on him the seed of Abraham.17 Wherefore in all things it behooved him to be made like unto his brethren, that he might be a merciful and faithful high priest in things pertaining to God, to make reconciliation for the sins of the people.18 For in that he himself hath suffered being tempted, he is able to succor them that are tempted.

Hebrews 2:16-18
He embraced humanity so he might know us in our own humanity. He chose to be weak so he could understand, empathize, and have compassion on everyone, including the weakest and the poorest. In this way, no one is beyond his reach. Jesus' intercession on our behalf makes us able to love as he loved, thus enabling us to obey "be perfect."
In order to join Him in this endeavor to love, we must first acknowledge our inaccurate language of perfection. This means overcoming disdain for weakness. Paul, in 2 Corinthians, exemplifies this distaste for "a thorn in his flesh," and asks for it to be taken away. He wanted whatever was weakening him to be removed. And God does have the power to. But instead, a more powerful response from our Lord is given.
9 But he said to me, "My grace is sufficient for you, for my power is made perfect in weakness." Therefore I will boast all the more gladly about my weaknesses, so that Christ's power may rest on me. 10 That is why, for Christ's sake, I delight in weaknesses, in insults, in hardships, in persecutions, in difficulties. For when I am weak, then I am strong.

2 Corinthians 12: 9-10
Not only is God's grace sufficient for salvation, but also for perfection. His grace is sufficient for us to love with godly, perfect love that we would otherwise not have. Additionally, his strength is made perfect– his love is made whole– through weakness. Because weakness is inevitable, they make us constantly dependent on God. We are forced, as flawed humans, to go back to our First Love, our Life Source, our Physician. In our physical state, we NEED a doctor. Our weakness demands a savior, and in that, Christ's love has access to our hearts. If we continued with the perfectionist mindset in the world, then our minds and hearts would tell us that we have it all under control, that our own work and merit will be the way to God's love, that when we fail, we are bad disciples of Christ. Instead of letting Christ in, we let guilt-ridden lies fill his place. Hating weakness denies Christ access to us. No longer! If weaknesses make me need the Lord and align me with his humility, then AMEN! I must be imperfect for Christ to perfect me.
Christ became the perfect being in an imperfect body, and because of this, we may become even with him. What do I mean by this, exactly?
29 Take my yoke upon you, and learn from me, for I am gentle and lowly in heart, and you will find rest for your souls.

Matthew 11:29
⇓  He stooped down from Heaven to become the lowest on Earth. He lowered himself from Master to servant, to be even with humanity. This is his gentle and lowly heart manifested in the world.
⇔ Christ now invites us to yoke ourselves to him. He is already lowered far enough down so we may be even with him, now we are called to be gentle and lowly in heart, too.
⇑ He lifts us up, makes our burden light. He offers to carry our burdens, thus allowing us to carry his. His only burden is love.
If you have never seen a yoke before, let me enlighten you (and also give you a break from reading so much!).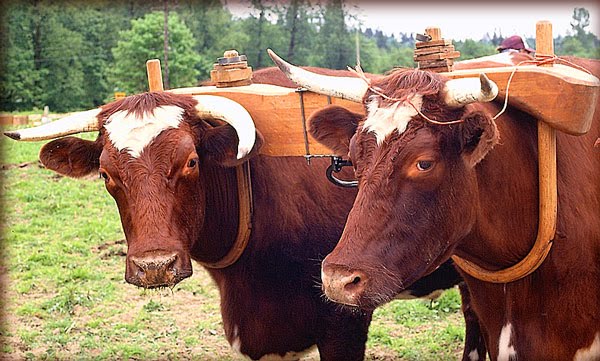 Hopefully this picture ties it all together. The same rules of the animals apply to our walk with Christ. I'll trust that y'all will be able to put the pieces together and see the parallel. I encourage y'all, as always, to look more in to it yourselves.
But if that's not enough, let's take a deeper look in to a real-life example of Jesus stooping down, extending the yoke, and lifting the unworthy up.
1 but Jesus went to the Mount of Olives.

2 At dawn he appeared again in the temple courts, where all the people gathered around him, and he sat down to teach them. 3 The teachers of the law and the Pharisees brought in a woman caught in adultery. They made her stand before the group 4 and said to Jesus, "Teacher, this woman was caught in the act of adultery. 5 In the Law Moses commanded us to stone such women.Now what do you say?" 6 They were using this question as a trap,in order to have a basis for accusing him. But Jesus bent down and started to write on the ground with his finger.7 When they kept on questioning him, he straightened up and said to them, "Let any one of you who is without sin be the first to throw a stone at her." 8 Again he stooped down and wrote on the ground.9 At this, those who heard began to go away one at a time, the older ones first, until only Jesus was left, with the woman still standing there.10 Jesus straightened up and asked her, "Woman, where are they? Has no one condemned you?" 11 "No one, sir," she said. "Then neither do I condemn you,"Jesus declared. "Go now and leave your life of sin."
Just imagine the woman– shamed and rightfully accused, shrinking back on the ground, naked before the Pharisees. Strewn on the dirt, caught in deep sin.
The teachers of the law – high and mighty with pride, looking down on her with their domineering stance. Blinded by their own perfectionist schema and judgmental ways.
And Jesus, stooping down. Stooping down again, to the level of a sinner. Out of love, he corrects both the prideful and the deprecated. And in that moment, where he is sitting evenly on the ground with the adulterous woman, he evens himself with humanity once more. He has every right to judge, every authority on heaven and earth to harshly rebuke such a person, but instead, he chooses to be gentle and lowly in spirit. He chooses to extend an invitation of a light and easy burden to the undeserving. That is the God who walked among us.
The trick in our walk with Christ is not to become yoked, per say. That's actually the easiest part! He already did all the heavy lifting, we just had to accept the invitation. No, the trick is to STAY yoked. In staying even with Christ, we remain accessible to his love, and therefore his perfection.
______________________________________ Pharisees (puffed up with pride, self righteousness)
______________________________________ Jesus (remaining meek and lowly in spirit)
______________________________________ Sinners (deprecated by sin and guilt)
Consider this makeshift chart, if you will. Jesus, who remains consistently at the humble level, sets the standard for the yoke we draw to him. Sadly, however, it is impossible to stay even with him for long because WE unyoke ourselves from him when we sin and compare. In our weakness, (which as I stated before, is inevitable), we can detach ourselves from his connection. We tend to fall to the sinner mindset, in which we become self-deprecating and guilty (the adulterous woman before Christ) OR we can become prideful in our walk, in how much we know, and completely puff ourselves up above the call to love mercifully (the Pharisees).
This inevitable weakness may seem discouraging. I write all this and then conclude it with, "but you will not be yoked with Christ for very long." Kind of a downer, huh? But that's the perfectionist mindset setting in again. Here's the thing: no matter how short-lived or brief our evenness with Christ is before we fail, in that time that we were yoked with Christ, WE WERE PERFECT. Not on our own accord, by any means. But in that moment, walking side-by-side with our meek and humble Lord, his love did abide in us, and THAT is to be celebrated. I believe God gives us little victories like that to encourage us, to tell us, "My child, this is possible." In those little victories with Christ, we rejoice! In the times of weakness, however, we…
Also rejoice! That's the more difficult thing to do, I know. Everything in us, in me, wants to be good enough, wants to avoid failure, so as to avoid hurt. I said it before, and I'll say it again – that sin or weakness or failure leads us to greater love.
3 Do you suppose, O man—you who judge those who practice such things and yet do them yourself—that you will escape the judgment of God? 4 Or do you presume on the riches of his kindness and forbearance and patience, not knowing that God's kindness is meant to lead you to repentance?

Romans 2: 3-4
Christ yoking himself with fallen humanity, that kindness, is meant to lead to repentance. This is how we can break the vicious cycle of worldly perfectionism. We accept weakness as reality, strive for excellence in humility, and when we fail, repent and allow Christ to love us even in our worst; allow weakness as an access point for Christ to work. We rejoice that he is a merciful and patient Father, who allows us to become one with him once more, if we so choose. Then, we pick up his burden as he picks up ours, and are once again equally yoked in perfect love with our Lord, fulfilling the command to be perfect as our Father in heaven is.
Now this is a lot to take in; it is definitely one of my more lengthy posts, and I'm still not done! This command is not meant to be taken on alone. In the next post, I will go in to more depth about WHO this command is for. Keep reading!